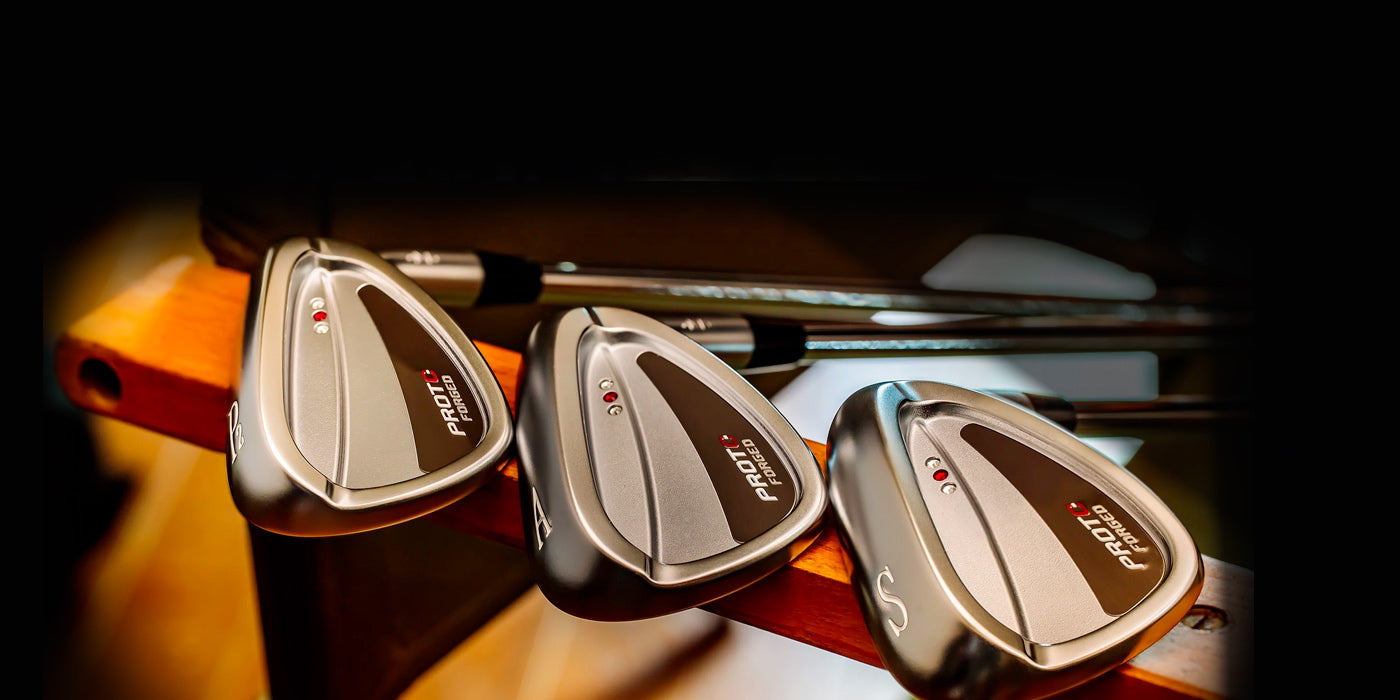 An easy, authentic wedge that can be used similarly as irons
Perhaps wedges create the biggest difference between golf in the 20th century and in the 21st century.
Tiger Woods changed the positioning of wedges, which previously had been part of the irons set, and made them clubs specializing in approaches equipped with dedicated functions.
A myriad of wedge sole shapes has been devised and launched based on diverse and specific feedbacks from tour pros. With the majority of them designed to be like sharp musclebacks in irons, they are often too edge for the average golfer while benefiting professionals and advanced players.
Many golfers seek clubs with forgiveness. This may mean large, allows higher launch and less bending for drivers. And for irons, many golfers choose cavity backs and hollowheads with large sweet spots. And yet, many golfers use musclebacks and other models difficult to handle when it comes to wedges.
This is an issue that did not exist in the 20th century, when golfers used wedges developed as a part of irons sets. The more advanced wedges became, ironically, the more difficult they became for the average amateur. This trend is causing more struggling during approaches.
To defy this paradox, PROTO-CONCEPT has developed a new wedge that is maneuverable for amateurs, yet demonstrates quality and spin performance surpassing that of professional models. That is the FORGED WEDGE, offering three different sole shapes.
Additionally, the FORGED CB WEDGE model is even more forgiving than the small-head FORGED WEDGE and aligns with the cavity back irons trend followed by many golfers.
Many specialty wedges on the market have heads that are too small compared to those irons set wedges. This is due to the fact manufacturers focused on features sought by advanced golfers such as being capable of hitting out of the rough and demonstrating high maneuverability. But for most golfers, these wedges are difficult to handle and lower confidence.
The FORGED CB WEDGE features a larger head than the FORGED WEDGE by adopting a cavity shape, which significantly increases the sense of security when holding it. And when actually playing rounds, the forgiveness achieved through the sole that allows the ball to hit through and its cavity-shape effects make the head much easier than the pro models on the market.
There should essentially be more of these easy and forgiving wedges available for sale. In order to succeed in approaches key to upping your score, a feature that allows you to put together a moderate shot without having to make a tight impact is inevitably necessary. The FORGED CB WEDGE was crafted out of PROTO-CONCEPT's aspirations to create a wedge that would be embraced by elite professionals, advanced players and a wider range of golfers alike.
Developed for many golfers, the FORGED CB WEDGE is also surprisingly popular among women who want to improve their game. The wedge is also easy for most female golfers by choosing the right shaft. It should be given a try given there are not many good wedges for ladies on the market.
The FORGED CB WEDGE suits an extensive range of golfers, from beginners to golfers scoring single-digits. The sole's effects on improving shots and its mis-hit forgiveness will benefit many for sure.
Furthermore, this is one of the best soft iron forged wedges on the market. The high-precision forged head features precision score lines more precise than machining, as well as "face dot milling" that produces consistent spin even under poor lie and weather conditions. In addition to excellent maneuverability, the FORGED CB WEDGE delivers comfortable feel and sound when hitting and the feel of the ball riding on the face, which are characteristic of an authentic wedge. For making approaches in which prediction is important, these features are indispensable for honing the senses needed for this skill.
The FORGED CB WEDGE was created to meet the needs of the many "ordinary" golfers who should intrinsically be looking for such features. You will be able to naturally visualize the trajectory of your approach shot and gain an advantage in your games. After all, 'authenticity' is essentially about being able to demonstrate performance in real-life golf.
PROTO-CONCEPT Brand Producer
Yasufumi Kawasaki