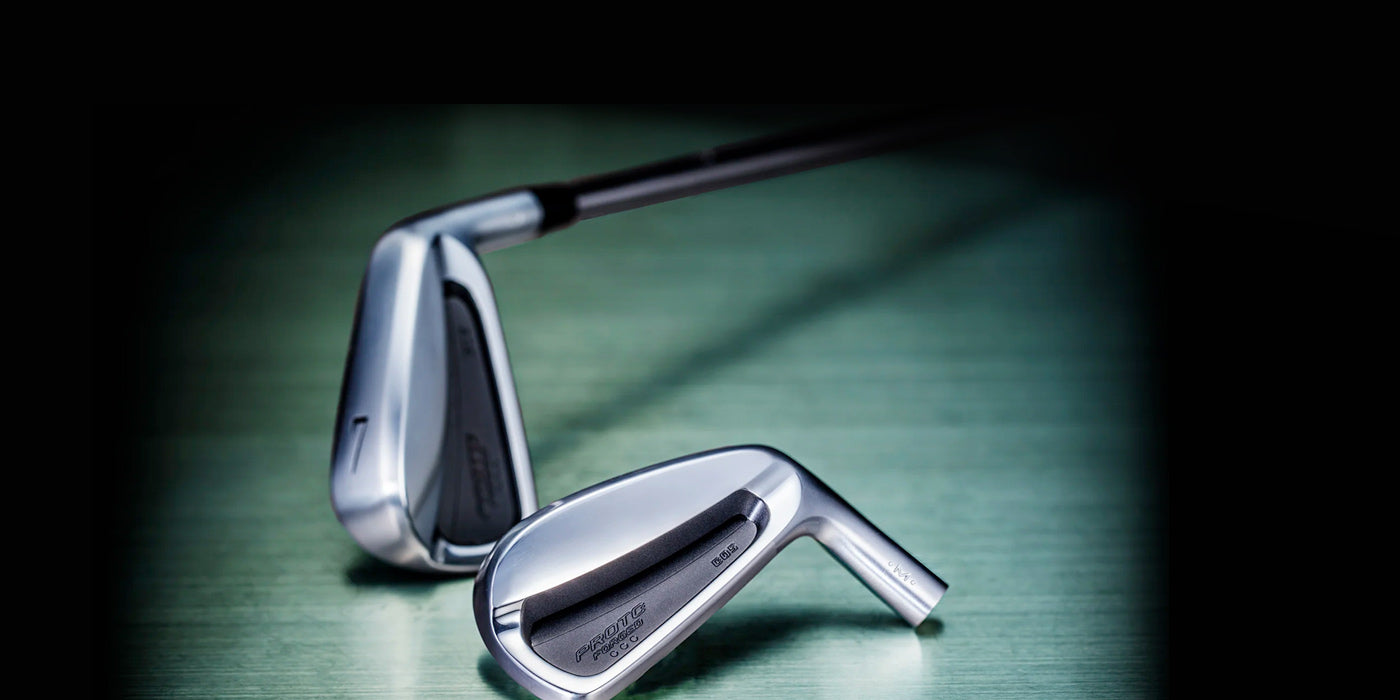 A clubface with 3-level thickness deviation crafted with innovative concept and technology
Although possibly not as noticeable as drivers that have become visibly larger, the evolution of irons has been remarkable over the past few years. In particular, strong-lofted irons known to carry distance are actively produced with a mix of different materials, such as hollow construction, resin inside the head, and high specific gravity weight in the sole.
This development dramatically changed the ball flight of irons in addition to distance. There are now more models that can hit high ball flight with low spin that would have been previously unthinkable. There appears to be more golfers who are making good use of these features in their game.
However, this is not to say that blowing ball flights characteristic of traditional irons are no good. As you can see from the fact that many players in the men's professional tours today still use musclebacks and cavity-backs, the ball quality of irons that generate a lot of spin and provide control is still necessary for scoring.
It is often said that irons are still most important scoring in improving your score. Being able to carry the distance desired and stopping the ball on the green are the utmost priorities in the game. Excellent maneuverability, carrying distance and providing a good feel of the ball in addition to these features will make perfection. If you have a set of irons where only the 7-iron, the test club, carries overwhelming distance, you will understandably not be able to play well.
PROTOCONCEPT crafts all four irons with loft angles that are not excessively high. Even the C07 irons with the highest loft angle is a 7-iron with 31 degrees. However, I hear comments such as "I get more distance compared to the loft angle" from actual users. All four irons are designed to stop the ball on the green, have high trajectory, and provide good spin and control.
However, they are not quite old-fashioned irons with traditional functions. While inheriting the good qualities of past legendary models, PROTO-CONCEPT incorporates only the most advanced technology and attention to detail so that golfers can fully benefit from their features.
A representative example is the "3-level thickness deviation" featured on the C07 iron. Using SAE8655 chromium molybdenum steel tougher than soft iron for the clubface to make it thinner, the C07 exhibits remarkable bounce. The clubface features thickness deviation of three levels, as shown below.
Top blade: 1.8 mm
Center-left and right: 2.3 mm
Lower center: 2.7 mm
In order to eliminate the unsatisfying feel and sound of face-welded irons, the lower area of the face is made thicker and thinner towards the top blade so that even players with slower head speeds can experience the ball hitting the face like a professional golfer with a high head speed.
Even PROTO-CONCEPT's partner manufacturing plant that boasts some of the best technology in the world said it might be technically difficult when we proposed this design plan. However, after overcoming numerous prototypes and strength tests, we were able to exceed the highest quality standards.
This technology is also used in the C05 iron. Required a more solid feel of the ball, the overall clubface of the C05 is slightly thicker at 2.7 mm while the center-left and right sides of the face are 2.4 mm thick. This design derived through reverse thinking improved the feel and control of the ball while at the same time enhancing distance.
Among intermediate and advanced players, the so-called "one-piece" models made of soft iron forged in one piece are said to be the best. However, the C05 and C07 irons that use high-strength materials for the clubface provides a soft, good feel when hitting, giving you solid control of the ball and free of bounciness at all that is common with spring steel. And yet, their ball flight and forgiveness far surpass those of integrally molded models, equipped with features that support golfers.
The signature feature of PROTO-CONCEPT irons is their pursuit of versatile performance required as an iron set. You can even sense a harmonious feel from this feature.
PROTO-CONCEPT Brand Producer
Yasufumi Kawasaki