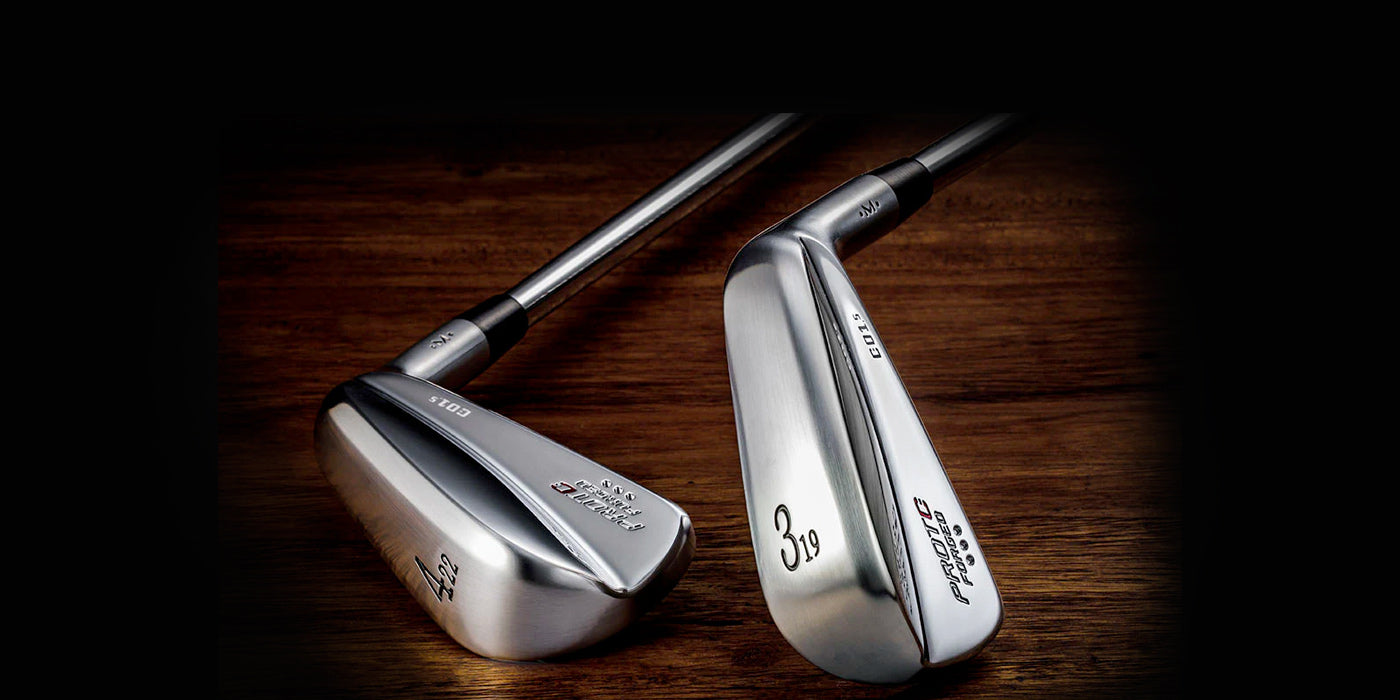 The importance of taking advantage of golfclub sets' 'flow' as designed
Many irons nowadays have improved their distance performance with stronger lofts, but the distance increments between each club number have become less smooth. Strong-lofted irons frequently give less distance gaps as they become longer, giving a difference of almost 15-20 yards among clubs with lower numbers. They may drive the ball, but this will make the game of golf much more difficult.
『PROTO-CONCEPT focuses on the original function of irons, which is to hit different clubs within the iron set according to distance. The four iron models by PROTO-CONCEPT are all designed to drive solid height and spin, as well as to allow players to aim for the green.
The well-balanced and easy-to-address shape is also consistent, leaving room to put together a combo set, such as using a more forgiving model for the longer irons. Combining irons with completely different feels will not improve the flow in distance gaps, but PROTOCONCEPT irons are designed so combining will also naturally create a good flow across the set.
Based on this design concept, the C01.5 hybrid forged iron is a utility iron that can be hit with the flow of an iron set. Engineered with a sharp figure that satisfies intermediate and advanced golfers, the club pursues the function of being strong against mis-hits, easy to lift the ball, and above all, making the ball easy to stop on the green to aim for the pin.
With today's spinless balls, long irons have become a much more difficult club than previously. Even professional male golfers are now compensating for the ease of getting the ball up and mis-hit forgiveness by adding utility and pocket cavity irons as their longer clubs.
『Except for the C07, with a deep center of gravity pocket cavity that drives the ball higher, the iron set by PROTOCONCEPT starts with a 5-iron (*C07 starts with the 4-iron). The club number that can be maneuverable by the average amateur golfer, with enough height and spin to aim for the green, is to be around a 5-iron.
And the C01.5 hybrid, featuring hollow structuring, drives further distance. It delivers solid height and distance, yet not too much flight, and can be used comfortably with the flow of the iron set by maintaining the irons' sharp shape.
When you think in terms of putting together a club set, and in terms of advancing your game, you want to focus on smoothening the flow among your clubs as much as possible. For example, if you set up a flow of longer clubs going from a driver to a wood and from a wedge to irons for your shorter clubs, a utility designed as neither a wood or iron may sometimes be out of place within the set, causing to lack balance.
You may feel such unease if you are not a fan of utility woods. The C01.5 hybrid is an excellent utility iron when hit alone, but it becomes even more maneuverable when combined with an iron set. It is easy to swing and raise the ball, making it an effective club for golfers not good with long irons as well as for those who cannot hit with utility irons well.
PROTOCONCEPT Brand Producer
Yasufumi Kawasaki