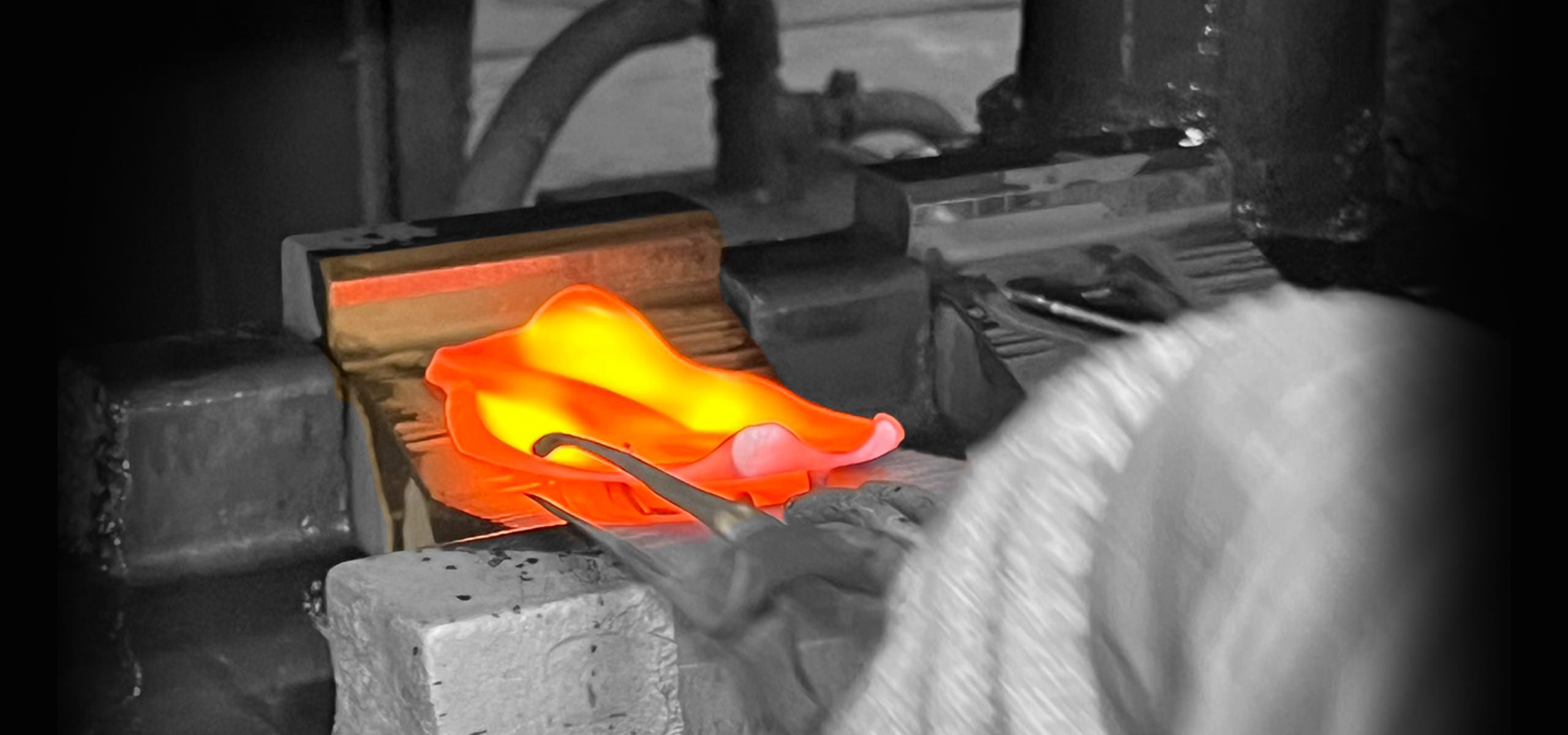 State-of-the-art forging technology that materializes our design concept
PROTOCONCEPT has incorporated the forging process since the launch of the brand. Of course, other manufacturing methods have also been considered, but we needed the help of a Japanese manufacturing company that possesses one of the world's best forging technologies to materialize our ideas.
Soft iron forging has always had many fans, but circumstances have changed considerably since then and the forging process PROTOCONCEPT incorporates today has undergone technological innovations. Let me introduce this here.
PROTOCONCEPT's soft iron forging process also differs from the forging process that commonly comes into mind.
In soft iron forging, the heads that are forged in larger sizes are polished by hand and formed into their respective shapes. In small-lot productions, there are many cases in which different models are produced from the same forged head, and it is as if they are competing in polishing techniques to see how accurately desired shapes can be crafted from blocks of steel (= forged heads).
Because this would result in too much variance in accuracy according to the craftsperson's skills, major manufacturers have improved accuracy by creating forging dies and reducing the amount of polishing needed.
Manual polishing techniques by skilled craftsmen are truly outstanding, but pursuing productivity and precision requires methods that enable consistent manufacturing needing as little manual intervention as possible.
PROTOCONCEPT's concept is to "incorporate all functions, materials and techniques that are conceivable at the moment."
In addition to clubheads, the forging factory that manufactures the heads for PROTOCONCEPT also produces forged parts for automobiles, as well as artificial joints that support the human body and other parts that are vital to human life.
Automotive parts and artificial joints that are implanted in the human body and become a part of the body that cannot be deviated even slightly require extremely high precision and strength.
At such a factory possessing ultra-precise forging process that creates them, PROTOCONCEPT's heads are crafted while aiming for superior precision and quality.
The integrated forging process with ceramic inside used in the new C01TB ic iron model is exemplary of this.
This technology, which incorporates a ceramic material of much lower specific gravity into a round bar of soft iron and forges it in a single piece to create the shape and wall thickness as designed, is something that cannot be emulated elsewhere.
This high-precision manufacturing is also essential in the production of the C03TC, which employs a center-of-gravity design for all club numbers using 3D CAD, just as in the C01TB ic.
The head, made by strict temperature control and precise high-pressure pressing, is finished in a near-completed state, with only slight shavings needed as of the end of the forging process.
And even the slightest finishes on the precision forged heads are made with minimal manual labor by incorporating machining. To accurately materialize PROTOCONCEPT's design concept, this level of manufacturing technology is essential.
For both the new 2023 models C01TB ic and C03TC, the basis of PROTOCONCEPT's manufacturing philosophy is to incorporate the latest technology and choose a manufacturing method for each model to achieve the unique feel from steel when hit that will satisfy amateurs as well as tour pros.
PROTOCONCEPT Brand Producer
Yasufumi Kawasaki